Military Jewelry
Call now: (910) 867-5935
HERITAGE JEWELERS PROVIDES FINE JEWELRY
AS WELL AS CUSTOM MILITARY JEWELRY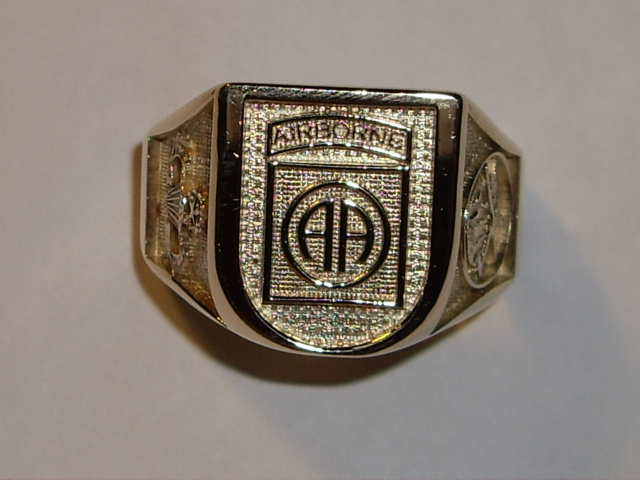 Heritage Jewelers--Military Jewelry
"FAMILY TRADITION"

Steve and Rose's son, Ken, is now the president of the company and is
responsible for all store operations. He and his knowledgeable staff have
justly earned a reputation throughout the civilian and military community
for their courteous, professional service. No request is too small,
no request too great. Ken and his staff are always eager to be of service.

"OUR MILITARY MEMBERS ARE ONE OF A KIND, THEIR JEWELRY SHOULD BE TOO"
Heritage Jewelers custom design department was established in association
with Mr. Mark Miller. Mr. Miller's reputation as the finest jewelry craftsman
in the southeast is unsurpassed and revealed in his beautiful, original jewelry creations.
Using state-of-the-Arc equipment, he can create one-of-a-kind heirlooms from scratch,
a photo, or even your own drawing. His attention to detail and an uncompromising
work ethic are evident in all of his jewelry creations.
Each piece is carefully and individually crafted in gold or silver and satisfaction
is guaranteed.
"MILITARY FRIENDLY" BUSINESS
Long recognized as a leader in quality products and superior service, Heritage
Jewelers has always served those who have served with deep military discounts
and contributions to the many and varied fund raising activities on and
off Fort Bragg and Pope Air Force Base.
Heritage Jewelers is especially proud of its participation in the annual U.S.
Army 82nd Airborne Division's " All American Week" which includes the presentation
of a sterling silver 82nd Airborne Ring to the NCO of the Year and the Trooper
of the Year.
"ALL THE BEST TO YOU"
As Heritage Jewelers continues to grow and expand to meet the ever changing
demands for fine quality jewelry and service, we are committed to providing
you with the best products and service.
Heritage Jewelers also offers a wide range of diamond, gold, silver, precious
and semi-precious jewelry as well as an array of unusual gift items. The
Jewelry service and repair department are second to none.
Call us at (910)867-5935, or come visit us at our convenient location in the
Westwood Shopping Center.
We're open six days a week from Monday - Friday 10am - 5pm Saturday from 10am to 4pm. Come
on by and you'll see that:
"THE CLOSER YOU LOOK THE BETTER WE LOOK"
Copyright 2021. Matheson Consulting. All Rights Reserved