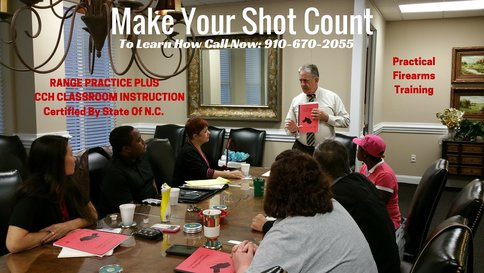 Concealed carry classes in Fayetteville NC are held at Jim's Gun Jobbery, the premier gun warehouse in Cumberland County. Material for the class is certified by the State of North Carolina as is the class instructor from Make Your Shot Count! a local firearms training company.

Classes for concealed carry are taught by Geary Chlebus, certified firearms expert and trainer. Geary has worked with civilians as well as military personnel in law enforcement, some are members of very select units. Call him at (910) 868-3379 to reserve a spot in his class.

Geary holds classes at Jim' Gun Warehouse and Indoor Range on Yadkin Road in Fayetteville NC every other Saturday. His next class will be the day after Christmas, December 26th, 2015. Call now to reserve a seat. (910) 868-3379

Space is limited by design so Geary can address general principles and apply them to your unique situations, personality and physical composure.

Before You Get To The Range

Geary will help you:

• Understand the rules of concealed carry in Fayetteville NC
• Consider the correct weapon for your needs.
• Determine the correct weapon for your stature and strength
• Use situational training about guns and self-defense.
• Use awareness training about firearms and concealed carry.
• Provide perspective for you on what happens AFTER the shot.

Key factors in play when you have a concealed carry permit are:

When to take the shot and when not to take the shot; criminal civil liabilities; you might need a good lawyer; some financial considerations accompany that along with possible court fees; how your family handles it; social stability of friends who might turn their backs on you and how your employer will react.

Geary will stress that firearms training is more than just firing a weapon. It is also what will or might happen AFTER the shot. So if you have to take the shot: Make Your Shot Count!

JIm's Gun Warehouse and Indoor Range
4632 Yadkin Road
Fayetteville NC 28303
(910) 868-3379
Watch Geary On YouTube Describe Class Outline:
Concealed Carry At Jim's Gun Range On YouTube

Watch Geary's Introduction Video Here:
Geary Talks About Concealed Carry On Google.


Tags
concealed carry fayetteville nc,concealed carry classes fayetteville nc,concealed carry permit fayetteville nc,concealed carry training