**New** :
View their latest Press Release here :
http://www.faybest.com/cfcdd-press-release.html

**NEWEST** : Because of their mission to provide helpful colon cancer screenings and endsocopy
screenings, CFCDD is sponsoring the the Cumberland County Relay For Life Cancer Event. They
have a team that will participate at the event on May 2nd at Village Christian Academy. Please visit
CFCDD Event Info and donations page
The best in Fayetteville Gastroenterology can be found here at The Cape Fear Center(not CFV hospital) For Digestive Diseases, which was established in July 1989 by 5 physicians whose mission is to provide the best care for any of your digestive problems. Their staff shares their patient-foucsed intensity, from the front desk to administration to the liason that helps decode your insurance coverage for you. In 2009 they opened a state-of-the-art Endoscopy Center for performing outpatient endoscopic procedures. You can call htem directly at 323-2477.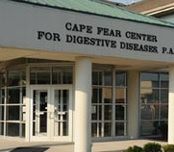 Here is a short bio of each of the physicians beginning with
Dr. Wesley Jones, MD.,FACP,AGAF
I've know Dr. Wes Jones for many years and for knowledge of his craft, he is one of the best. He is also a good listener, which I've found to be a common trait of good physicians. Everyone wants a physician that listens while you tell them your symptoms and where the pain and discomfort resides. He has associated himself with four additional physicians who share that philosophy.
Dr. Jones began private practice in Fayetteville in 1983. He is founder and senior partner of Cape Fear Center for Digestive Diseases, P.A. He is skilled in conventional and therapeutic colonoscopy and endoscopy. Dr. Jones' special interests include both medical and dietary management of various G.I. disorders including:
Irritable Bowel Syndrome (IBS)
GE reflux
Crohn's Disease
Ulcerative Colitis
Celiac sprue
Dr. Bryan D. Uslick, M.D.

Dr. Uslick attended Duke University Medical Center for his Internal Medicine residency and remained at Duke University Medical Center for his gastroenterology fellowship. Dr. Uslick has special interests in:
Inflammatory bowel disease
Peptic ulcer disease,
Pancreatitis,
Viral and autoimmune hepatitis,
Colon cancer screening,
Diagnostic and therapeutic upper and lower endoscopy.
Dr. Sanjeev Slehria, M.D.

Dr. Slehria is Board Certified in Internal Medicine and Gastroenterology. He is a member of the American College of Gastroenterology. He is trained in all aspects of gastroenterology and hepatology. His special skills and interests include:
Inflammatory bowel disease
Gastroesophageal reflux disease
Liver, and pancreatobiliary pathology
Upper gastrointestinal diseases
Including Barrett's esophagus
Esophageal cancer and gastroesophageal reflux disease
Gastrointestinal endoscopy including diagnostic and therapeutic upper endoscopy,colonoscopy, and ERCP.
Dr. Christian Y. Chung, M.D., FACG

Dr. Chung is a fellow of the American College of Gastroenterology and an active member of the North Carolina Medical Society and American Gastroenterological Association.
Dr. Chung's skills and interests include:

All areas of gastrointestinal endoscopy including upper endoscopy; colonoscopy; small bowel video capsule endoscopy; ERCP. Photodynamic Therapy (PDT) for treatment of esophageal cancers and Barrett's Esophagus.
Flexible Endoscopic Swallowing Study
Gastroesophageal Reflux Disease
Swallowing disorders
Peptic Ulcer Disease
Helicobacter Pylori infection
Celiac Sprue
Inflammatory Bowel Disease
Colorectal cancer screening.
Dr. Rakesh Gupta, M.D., FACG

Dr. Gupta is a fellow of the American College of Gastroenterology and a member of the American Gastroenterological Association.He joined CFCDD in November 1990.
His major interests an skills include:
Diagnosis and management of various gastrointestinal disorders including liver and pancreatic disease.
Peptic ulcer
Gastroesophageal reflux
Altered bowel habits
Lower intestinal bleeding
Colon polyps or cancer
Dietary education
Colonoscopy for routine colon cancer screening and therapeutic intervention